Drink It
right where we make it.


There's no better place to get fresh LBC brews, and no better place to hang out for a great evening. The LBC Taproom isn't our bar—it's yours. We built it for you, making sure you and your friends have a place where all your favorite beers are always on tap, your favorite game is always on the big screen, and your favorite food trucks are always close at hand.
Our New Beer Garden Opened
spring 2016!!!

Commitment
to our community.

LBC wouldn't be where we are without our loyal customers and the support of the Raleigh community (and beyond). We're always looking for ways we can give back, whether it's sponsoring local teams, supporting fundraiser involvement, tournament sponsorship, charity nights at the Taproom, and more.
We like to think of ourselves as a community brewery. That's why LBC sponsors local teams, tournaments, fundraisers and more. Every Tuesday night, $1 from every beer purchase is donated to a chosen charity or community cause. You drink, we give, they benefit.
Know of another way LBC could get involved in the community? Contact us today and let us know.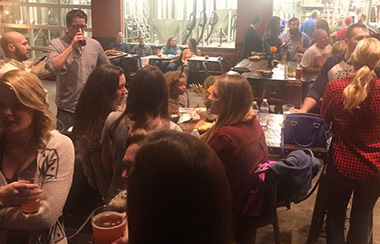 The Best Food
on four wheels.

It's not unusual to see some of the Triangle's hottest food trucks at the LBC Taproom. Most nights you'll find high-quality, mouth-watering food right outside our doors. And every night you'll find a great craft brew—perfect for pairing with the food truck du jour.
Check the calendar to see when your favorite food truck will be here.
Tour
the lbc brewery

LBC brewery tours are available on Saturdays by reservation. Come by to see our brew masters in action and try a taste of our award-winning selections.